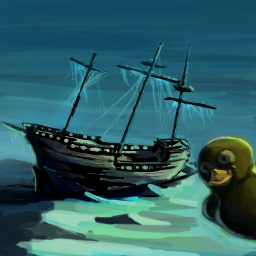 SA Treasure Hunter 2015 v1.0 PRE-RELEASE ALPHA EARLY ACCESS EXCLUSIVE DLC SEASON PASS
brought to you by team QuackerJacks
About the team
What do four programmers, a digital artist, and a GIS specialist have in common?

They love sunken treasure!

Join us on a journey into hist-yarrrrr-y and find all of the sunken wrecks around South Australia's coasts and rivers.

Fun for all ages! A bit about the name: Programmers just really love ducks, we are like the "I like turtles" kid, but with ducks. The real reason is probably because our workspace is filled with rubber ducks for Rubber Duck Debugging.


Baron James Duncan - Lord, "Idea guy" and Software Developer
Christof Sigel - Software Developer
Ellen Carter - GIS Wizardess and Photos
Andrew Davidson - Digital Artist and Software Developer
Zachary Bailey - Web Developer and "Guy stuck making the video"
Joe Loud - Software Developer
The idea
Our (very good) idea was to develop a fun and interactive game using open data.
Our game involves the player controlling a duck that discovers treasures strewn about South Australia.

Hackerspace Page
The datasets
The process
We started with an idea for a shipwreck explorer game that would use the Shipwrecks dataset on data.sa.gov.au provided by the Department of Environment, Water and Natural Resources. From there we built a few early prototypes
The outcome
A working prototype game with playable demo using a total of five datasets from data.sa.gov.au and one from data.gov.au.
The audience
Our game is designed for all ages, it allows players to explore South Australia and discover many interesting places and shipwrecks while also providing interesting information about each place. Our game is a great way for young children to engauge with the history of South Australia in a fun and unique way.
Relevance and prizes
The most fun use of data - Our project is a game that also allows players to learn a little bit about South Australian history and places.

Bounty: Open Source bounty - Our project is mostly open source and we used open source software Leafletjs for mapping.

Bounty: Geoscience Australia data bounty - Our GIS expert used datasets from Geoscience Australia to help produce our game map.

International Best Disaster Mitigation Hack - Shipwrecks are bad, okay.

The Best Science Hack - Geoscience is science!

Australian Computer Society Membership - We just need this for networking. :D

Data is beautiful - Our game map is generated from map data, it plots points of interest and shipwrecks on the game map. It is beautiful, and special.

Helping communities connect with data - Our game allows players to learn more about every point they "capture" and thus allowing people from all walks of life a fun and interactive way to learn more about South Australia.

Stories of South Australia - Digital Humanities - Using State Library datasets and flickr albums.

The Unleashed Premiers Awards - Ours is the best, so that is why.
What next?
We build a mega rad mobile game with microtransactions and DLC and bring in the big money!
But really, we will flesh out the gameplay aspects to make the game more enjoyable as well as include additional fleshed-out datasets witht he help of the State Library and other open data providers.
Gallery